San Diego has a long history of military. In fact San Diego has the largest concentration of military personnel in the nation, with more than 240,000 veterans residing here in the Finest City.  
So today, whether you have no school, a day off from work, you're going to the mall, the beach. Take some time to enjoy yourself and remember those who put their lives on the line and have given their lives to defend our nation.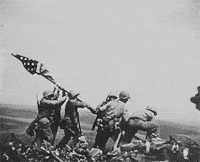 If you decide to stroll around OB and come across OB Beans we are offering 40% off coffee for all military. Be sure to stop by today!